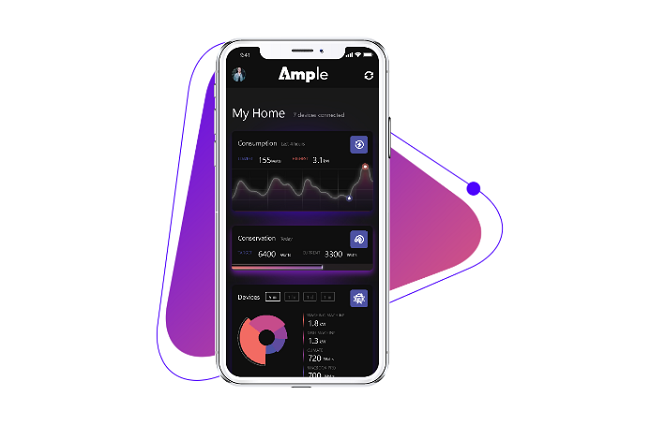 NEM Ventures invests in startup using blockchain and machine learning to reduce environmental footprint
NEM Ventures, the venture capital arm of the NEM blockchain ecosystem, has made an investment in Ample, a machine-learning smart meter company aiming to reduce environmental footprint using blockchain and behavioural economics.
Founded in 2018, Ample seeks to use feedback and incentives to encourage consumers to lower their energy consumption, targeting the 20 to 50 percent greenhouse gas emission reduction potentially available through behaviour change alone.
Ample is an app which reads current data from a single, machine-learning enabled sensor installed at the fusebox, providing users with a 360-degree view of their domestic energy consumption. It helps in identifying energy waste 'hotspots' and then uses behavioural theory to 'nudge' consumers into more efficient behaviour.
"The whole system is set up to move consumers towards target behaviors that are more aligned with their individual and group interests. Blockchain plays a part. We can use it to record relative consumption and allow consumption caps to be traded. None of that matters though, if people don't care about the incentives or even check their app," Andrew Hoban, founder and CEO of Ample, said.
"Blockchain's trustlessness means that users can know that they are trading their caps with other users, and not being tricked by the administrators for their own profit. It's an essential element in a successful behaviour system."
According to the press release, the angel investment from NEM Ventures is being used to finance pilots of two of Ample's cap and trade economies in Shanghai, which are expected to go live in Spring 2020.
An opt-in pilot will link the environmental community's saving efforts with local businesses who accept proof of saving to give special offers to Amplers. The second is on the campus of the China-UK Low Carbon College. Ample's behavioral intervention system is being deployed on campus and the cap-and-trade economy in dormitories. The system is expected to save universities up to 20 cents on the dollar in energy costs which, for many universities, can amount to millions of dollars a year.
"We're incredibly excited to be investing in Ample, a real manifestation of blockchain which will allow society to reduce its carbon footprint and lessen its environmental impact. Combating climate change is not just about a top-down governmental approach — consumers can very much effect positive outcomes by making these decentralised decisions and we see an incentive system as a core function of blockchain," Iain Wilson, Advisor at NEM Ventures, said.
<Copyright © TokenPost. All Rights Reserved. >