Last Updated on
As we enter 2019 and the virtual currency market keeps moving forward, there are some crypto-related applications that every single trader and crypto enthusiast must try at least once. Some of them are going to help users trade digital assets, while others will be helping investors to keep track of their portfolio.
The next bull run in the crypto space will attract new investors and users to the space. Thus, having applications that advanced and inexperienced users can download is always an advantage. In this article, we have reviewed and ranked a number of bitcoin apps currently on the market. Read on to find out which bitcoin apps we have found to offer real advantages when it comes to cryptocurrency trading.
eToro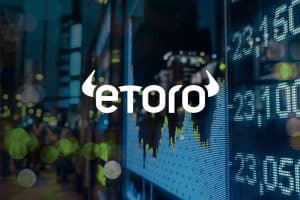 When it comes to cryptocurrency platforms, eToro has dominated the market since it launched. eToro is a multi-asset platform that allows users to invest in stocks, virtual currencies and CFD assets. This is one of the best applications for traders in the market that works for both professionals and beginners.
The company was able to expand all over the world bringing trading services and virtual currencies to more than 10 million customers in over 140 countries. This makes of it one of the largest platforms for trading digital assets in the market.
One of the most interesting features that eToro has is Copy Trading. This is specifically designed for users that are starting to invest in virtual currencies. Users can copy professional traders and start trading digital assets in a very easy way.
A few days ago, eToro launched its trading platform in the United States. It will be available in 30 different states and territories with plans to expand to other jurisdictions in the future.
The CEO of the firm, Yoni Assia, commented about it:
"U.S. crypto holders have a strong appetite for diversified portfolios. We're committed to offering the best tools and assets to help them manage their investments all in one place."
The platform also supports advanced trading strategies as well, including short-selling and leverage. At the same time, eToro has already built a large trading community. The company currently supports 14 different digital assets such as Bitcoin (BTC), Ethereum (ETH) and Litecoin (LTC).
Pros:
US & UK Customers
Available in over 140 countries
Supported in 30 different US states
14 different digital assets supported
A wide range of trading pairs
EUR / USD / GBP and many other fiat currencies supported
Attractive Social Trading features
User-friendly for both experts and beginners
Cons:
Withdrawals can take some time to be processed
Could add more digital assets
Read our comprehensive eToro review to find out more about the eToro app.


Robinhood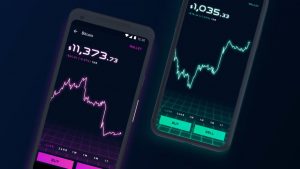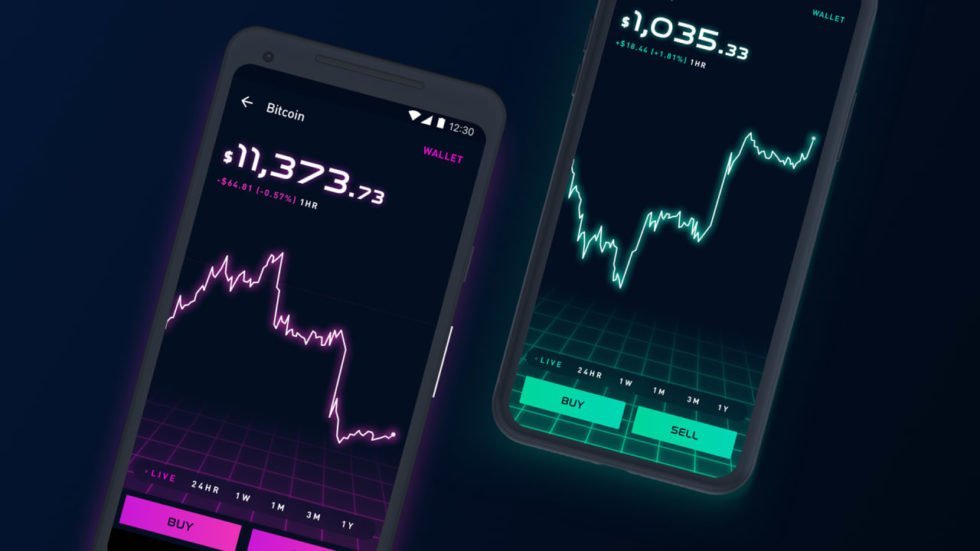 Robinhood allows individuals to invest in stocks, ETFs, options and cryptocurrencies. This is one of the favourite applications for millennials in the US market. Robinhood's main feature is that it does offer its services based on a commission-free scheme.
At the moment, Robinhood is available almost in every U.S. state, but the intention is to reach all the US market. The application is currently supporting different digital currencies, including Bitcoin, Bitcoin Cash (BCH), Bitcoin SV (BSV), Dogecoin (DOGE), Ethereum, Ethereum Classic (ETC) and Litecoin (LTC). It also supports real-time market data for many other virtual currencies in the market.
This application is great for those users that aim at maximizing their profits while trading digital assets. Most of the exchanges have large trading fees. Every single time a user performs a trade, the exchange platform takes a small commission for it. In some cases, they tend to be very high.
With Robinhood, users will not pay for trading fees. The company's revenue is related to premium services it sells and from interest on money kept in Robinhood accounts. There are some other features such as margin trading that Gold subscribers can access.
The weak point of this application is that it only offers services to users located in the United States rather than in other countries. In the future, they may expand to other jurisdictions as well.
Pros:
Accepts US customers
Offers trading services without fees
Easy to use
Great option for newcomers
Offers support in a large number of US states
Cons:
It doesn't offer crypto-wallet services
It only offers support for US users


Cash App
Cash App is one of the most popular applications for buying and sending Bitcoin. Users that have funds on their accounts can simply purchase the most popular digital asset in just a few clicks.
Although the app provides support only to Bitcoin and not other cryptocurrencies, it was able to reach the second position as the most popular apple application in App Store. The Cash Capp, which has been developed by Jack Dorsey's Square, is one of the most widely utilized mobile payment applications in the U.S. market.
With the application, users can receive and send money with friends and family and it is possible to buy Bitcoin with just a few simple taps. Users can even have a Visa debit card that allows them to spend their proceeds in thousands of shops around the world.
Jack Dorsey has also mentioned that they will eventually be adding support to the Lightning Network (LN) on Square's Cash App. The Lightning Network is the ultimate scaling solution for Bitcoin that would allow the network to process thousands of transactions per second and with very low fees.
Pros:
Simple to use
Could Support the Lightning Network in the future
Good for beginners
Cons:
Only offers Bitcoin support
Low sending limits


Abra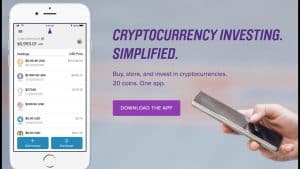 Abra is a cryptocurrency wallet and exchange that aims to become an all-in-one tool that helps users manage crypto and fiat currencies. The application allows users to buy and sell cryptocurrencies from their wallets. Abra supports 28 virtual currencies and more than 50 fiat currencies. In the future, there might be a larger number of coins added.
One of the interesting things about this application is that all the balances are displayed as Bitcoin (BTC). However, there are two exceptions, Bitcoin Cash (BCH) and Litecoin (LTC) are also shown.
Although there are no fees for users that exchange virtual currencies within the Abra app, there is a small spread in the virtual currencies. That means that those purchasing digital assets will have a different price than those selling cryptocurrencies.
The application offers different ways to deposit funds, including US bank wires, bank deposits, credit card deposits, teller deposits, virtual currencies and more. Some of the fiat currencies supported include AUD, USD, GBP, EUR, JPY and many others.
Several digital assets are supported as well, including most of the top 10 and many others such as Basic Attention Token (BAT), Augur (REP) or ZCash (ZEC).
Pros:
Support a large number of cryptocurrencies
Includes support to several fiat currencies
Innovative interface
Provides flexibility to users
Cons:
Spreads apply
No advanced tools for traders


Blockfolio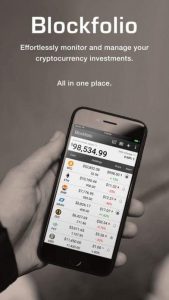 Blocfolio is different than the previously listed applications. This one is not a wallet, it is just a portfolio management tool. This application allows users to easily track and monitor a vast selection of virtual currencies. All the information about prices can be gathered from different exchanges, providing a better user experience.
It provides very useful information for investors that want to have control over their currencies in just one place. Individuals can have the value of a digital asset over a specified period of time and compare the funds it had with the current holdings.
Moreover, the application calculates profit and loss using the current market value and also the net cost that is provided when entering the transaction. The app is also offering a new "Signal" tab that provides news sources from official outlets for each of the digital assets tracked.
There is also an "Explore" tab that provides crypto news from other sites if the user prefers to read information from other sources.
Pros:
Offers free services to users
Investors can add multiple portfolios
Automatic backup
Cons:
It does not offer web support
It only works as a portfolio


Conclusion
All these applications have their own pros & cons, and clearly, each of them will provide users with different experiences, services and offerings. eToro seems to be one of the most popular apps for trading digital assets due to the fact that it has been operating in the market for a long period of time. Nonetheless, the other apps performed very well during the last few months and we decided to include them in our list.